The Taxum Totem's larger than life and richly hued animal portraits re-awaken the Dead Zoo's inhabitants - releasing them from the dusty confines of their Victorian glass museum cabinets in Dublin's Natural History Museum into the light of a contemporary world, set free from their taxonomic rank and taxidermal stasis.
Grimes's images present a gallery of new animal celebrities, not posed in studio shots but photographed in situ in the museum. Looked at carefully, the museum's architecture, its tiered structure, the cast ironwork, the glass cases are here traced and reflected in their staring eyes.

The Dead Zoo - Taxum Totem project is one of six exhibitions based on the collections of the Natural History Museum in Dublin consisting of Dignified Kings Play Chess On Fine Green Silk

,

The Curious Case Of Mr B

,

Killed Striking

,

Travel Tips for Gentlemen

,

and

Home Trophies for Natural Living.

The body of photographs, drawings, texts and sound works were made during Grimes's artist-in-residence year at the Natural History Museum, then celebrating its 150th anniversary.


Taxum Totem. 15 Chromogenic prints on silicone. 36x26in (92x66cm) & 72x48in (183x122cm).
Primate Grid. 30 framed archival inkjet prints. 36x26in (92x66cm) & 72x48in (183x122cm).
Scala Naturae. 6 Light boxes. 36x26in (92x66cm).
Collection of the artist & Morris Collection, Detroit.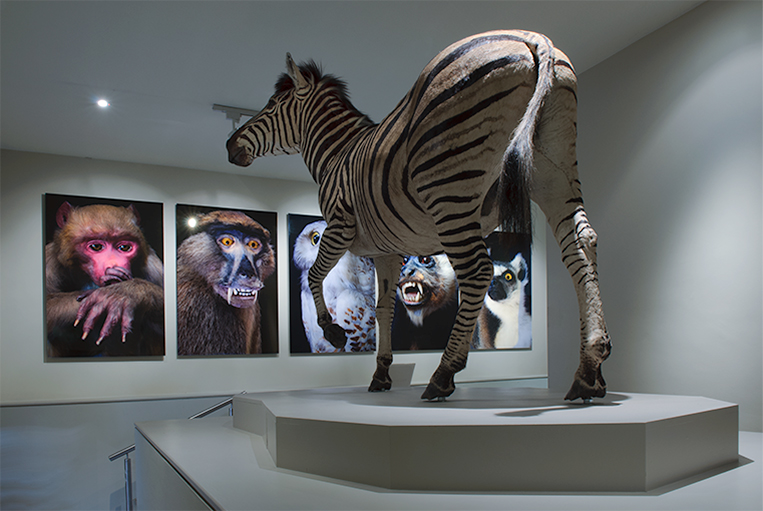 The Dead Zoo - Travel Tips For Gentlemen


"I hope that the building about to arise on this spot already connected with high ancestral recollections in Ireland may, with its kindred departments, furnish ever-increasing accommodation for the pursuits of useful knowledge and humanising accomplishments, and open for the coming generations worthy temples of science, art and learning, at whose shrine they may be taught how most to reverence their creator, and how best to benefit their follow creatures."

Extract from a speech delivered by Lord Carlisle, the Lord Lieutenant and General Governor of Ireland, at the laying of the foundation stone for the Natural History Museum, Dublin, March 14th, 1856.
The natural history museum of the nineteenth century emerged as a repository of objects and knowledge whose aim was to collect, classify, label, preserve and display a specimen of every known species of animal. The growing collections in the new museum in Dublin were augmented by a flow of donations and acquisitions from big-game hunters, amateur naturalists, gentlemen explorers and far-flung colonists. Victorian instruction manuals on animal killing, skinning, field preservation techniques and home taxidermy fuelled this fashionable pursuit and ensured the donor a named acknowledgment beside the displayed museum specimen. The series below, Travel Tips for Gentlemen and Home Trophies for Natural Living are based on a range of publications from the period including, Directions For Preserving Specimens Of Natural History, published by the Royal Dublin Society Museum in 1852.


Travel Tips for Gentlemen. 2007. Series of 8. Archival pigment prints. 36 x 28cm each. Edition of 5

(From Top) Skinning For Collectors 1 & 2. 2007
Extract from Directions For Preserving Specimens Of Natural History. Royal Dublin Society Museum. 1852
Return Of Donations. 2007
Adapted from Return of Donations to The Museum Of The Royal Dublin Society, For The Year Ending December 31st, 1851. Royal Dublin Society Museum. 1852
The Mohammedan Countries. 2007
Extract from Handbook of Instructions for Collectors. The British Museum (Natural History). 1921
The Good Curator, The Bad Curator. 2007
Extract from, The Education of The Museum Curator, by J.Paton, F.L.S. Paper presented at the Fifth Annual General Meeting of the Museums Association, held in Dublin on June 26 to 29, 1894, at the Science and Art Museum of Dublin.



The Dead Zoo - Home Trophies For Natural Living



Home Trophies for Natural Living (after, White). No 1 - 6. 2007.
Series of 8. Ink on archival rag paper. 26 x 21cm each. Edition of 1.




The Dead Zoo is part of the project: Dignified Kings Play Chess On Fine Green Silk.
A full-colour limited edition publication accompanies the exhibition, with texts by Martin Kemp, Karl Grimes, David Norris, Stephanie McBride and Nigel Monaghan. Available from bookshops at the National Museum of Ireland, Wellcome Collection, London, Gallery of Photography Dublin, Deyrolle Paris. and Amazon.com ISBN 978-0-9552388-3-3








| | | |
| --- | --- | --- |
| | | |
| | |
| --- | --- |
| | |